Geisenheim Science Pub
03/11/2020
7:30 PM
-
9:00 PM
Attendance:

offline

Event location:

Zweiundzwanzig

Organizer:

Category:

Target groups:

all
Students
Prospective students
Researcher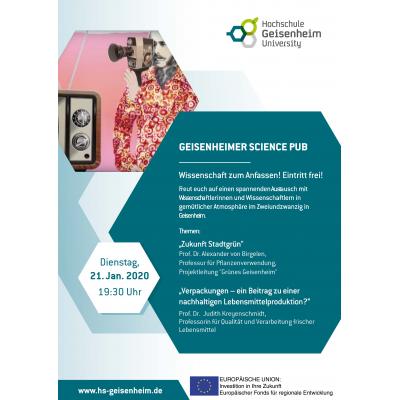 This event is held in German!
It's that time again. The Geisenheimer Science Pub has entered its second round.
Rubbing shoulders with scientists and a cosy living-room vibe: who can resist?
In case you aren't familiar with the format: two to three scientists have 15 minutes max to present their research (in general, not overly scientific terms) and afterwards you will have the chance to ask questions and exchange views and opinions. Feel free to order food and drink while this is going on. Anyone with an interest in the topics is welcome. Your host for the evening will be Katharina Hauck from Hochschule Geisenheim University, herself a seasoned science slammer. The event will held at Zweiundzwanzig, an easy to get to and laidback restaurant in the center of Geisenheim.
The next Science Pub evenings will be on (kicking off each time at 7:30 p.m.):
Tuesday, January 21, 2020
Wednesday, March 11, 2020
More information about this event
Event location:
Zweiundzwanzig
Lindenplatz 1
65366 Geisenheim
show on map
Organizer:
Geisenheim University