Fourth Culinary & Wine Tourism Conference (CWTC)
Event location:

Hochschule Geisenheim, Gerd-Erbslöh Hörsaal, Campus Gebäude

Organizer:

Institute of Continuing Education

Category: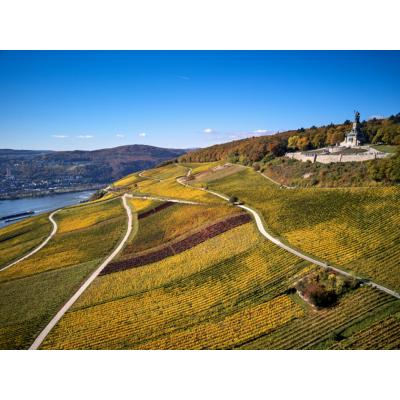 Blick auf Niederwalddenkmal (Bildrechte Winfried Schönbach)
From March 10 to 12, 2020, Hochschule Geisenheim University will be organising the Fourth Culinary and Wine Tourism Conference in cooperation with the Wine Tourism and Culinary Commission of the German Society for Tourism Science e.V. (DGT), IMC University of Applied Sciences Krems, Fachhochschule Wien der WKW and Harz University of Applied Sciences.
The Conference provides scientists, young academics and interested industry players a forum for a joint exchange of ideas. The conference is an opportunity to discuss current research findings with participants from the international academic and business communities.
Organized by Rheingau-Taunus Kultur und Tourismus GmbH, Rheingauer Weinwerbung GmbH, Zweckverband Rheingau and Hochschule Geisenheim University, the second Rheingau Conference will take place alongside the conference on March 9. It offers regional providers a chance to learn about tourism strategies and best-practice examples and is also a forum for industry practitioners to exchange ideas.
The CWTC held from March 10 to 12 will be followed by an excursion organized by the Federation of German Enologists (BDO)
All of the scheduled events can be booked individually.
It is possible to book a complete package for the conference (conference total package). This all-inclusive package includes admission to the scientific conference on March 10 to 11, the evening event at Schloss Johannisberg on March 10 and the excursion on March 12. Admission to the Rheingau Conference can also be booked separately and is free of charge.
All events can also be booked individually.
DGT/AIEST members and students receive a discount (upon presentation of the student card or proof of membership). Please select the respective discounted price category during the registration process.
You will find the program here.
More information about this event
Event location:
Hochschule Geisenheim, Gerd-Erbslöh Hörsaal, Campus Gebäude
Von-Lade-Straße 1
65366 Geisenheim
show on map
Information and Downloads:
Organizer:
Institute of Continuing Education
partners
Book your tickets here