Drink Innovation Challenge 2022 - Tech-Check
05/24/2022
3:00 PM
-
7:00 PM
Attendance:

Presence event

Event location:

Organizer:

Category:

Target groups:

Students
PhD students
Researchers
Employees of the Geisenheim University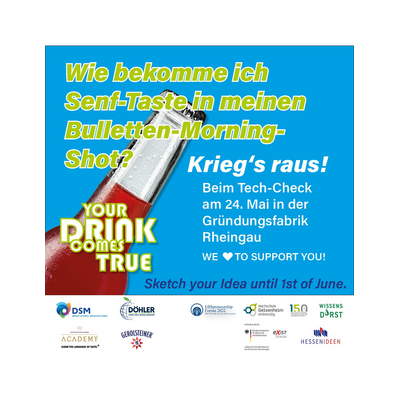 Your Drink comes true. But how?
You want to win the Drink Innovation Challenge!
We'll help you do it. Come to the tech check on 24 May 2022 from 3 pm.
Annette Wagner from the Beverage Technology Institute at Geisenheim University will check whether your idea is feasible and give important tips on how to make it work.
If you want to be there, register now: Annette.Wagner@hs-gm.de. As your idea will be treated confidentially, we will allocate time slots. The whole thing will take place at the Gründungsfabrik Rheingau.
Snacks and colourful drinks will be provided. We look forward to seeing you.
More information about this event
Event location:
Gründungsfabrik Rheingau
Winkeler Str. 100b
65366 Geisenheim
show on map
Organizer:
Gründungsfabrik Rheingau
Sponsoren
Register here for the event