Georgian Wine Fair
07/06/2022
4:00 PM
-
6:00 PM
Attendance:

Presence event

Event location:

Hochschule Geisenheim, Aula

Organizer:

Hochschule Geisenheim University

Category:

Target groups:

all
Students
PhD students
Researchers
Employees of the Geisenheim University
Students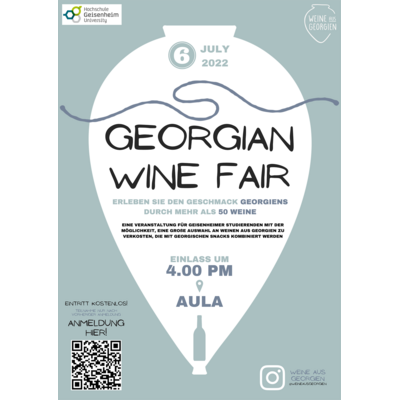 Erleben Sie den einzigartigen Geschmack Georgiens durch mehr als 50 Weine!
Auf der Veranstaltung können Sie eine große Auswahl an Weinen aus ganz Georgien verkosten. Sie werden auch mit den georgischen Snacks kombiniert!
---English---
Experience the unique taste of Georgia through more than 50 wines!
At the event you can taste a wide range of Georgian wines, paired with Georgian snacks!
More information about this event
Event location:
Hochschule Geisenheim, Aula
Von-Lade-Straße 1
65366 Geisenheim
show on map
Organizer:
Hochschule Geisenheim University
Register here for the event