Summer School 2021
SUSTAINABILITY: Knowledge - Solutions - Wishful Thinking?
Diese Veranstaltung ist nicht veröffentlicht und somit für Andere nicht sichtbar.
Registration closed!
Attendance:

online

Event location:

Online Event

Organizer:

Graduiertenschule der Hochschule Geisenheim University
Promotionsplattform Geisenheim-Gießen-Marburg

Category:

Target groups:

PhD students
Researcher
Masterstudents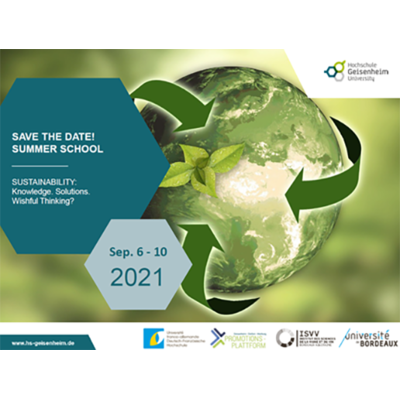 Taking on one of the most compelling current scientific and societal issues, Hochschule Geisenheim University, the Doctoral Platform Geisenheim – Giessen – Marburg and Bordeaux University will be hosting the International digital Summer School "Sustainability: Knowledge – Solutions – Wishful Thinking?"
Plan to join us virtually in September!
Young researchers are invited to join a cohort of scientific peers for interesting key note speeches from around the globe and delve into the complex topic of sustainability. Encouraging an interdisciplinary exchange, the program's workshops and other digital events will enable participants to explore the challenging issues of sustainability from a socio-environmental and economical perspective.
The summer school is free of charge.
PROGRAM INCLUDES
International Key Note Speakers
Excellent Lectures
Online Workshops
Survival Package
Certificate of Participation

for more details please follow:
If the situation permits, some events may spontaneously take place on Hochschule Geisenheim University's campus.
More information about this event
Event location:
Online Event


Information and Downloads:
Organizer:
Graduiertenschule der Hochschule Geisenheim University, Promotionsplattform Geisenheim-Gießen-Marburg
Sponsoren
Warteliste
Register here for the event
NEED HELP? Please contact Graduate School at 06722.502642 or email susanne.daniel@hs-gm.de