Summer School 'Wine Business'
Attendance:

online

Organizer:

Hochschule Geisenheim University

Category:

Target groups:

all
Students
Prospective students
PhD students
Researchers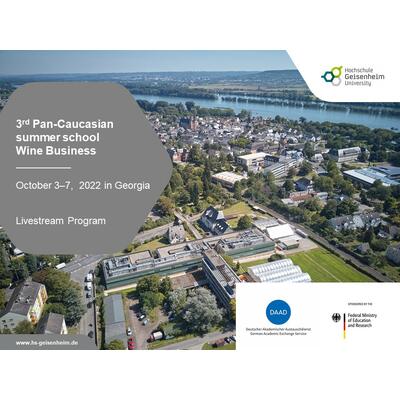 FOCUS: DIFFERENTIATION & WINE TOURISM
ONLINE BROADCAST, LIVE FROM GEORGIA: 3.-7.10.22
Whilst the full program will take place in person in Tbilisi and Kakheti, some program items will be broadcast live and made accessible to pre-registered participants worldwide. Indicated times refer to Tbilisi time (UTC +4).
If you are considering attending the full program in person in Georgia,
please contact Isabel Kottmann at Isabel Kottmann@hs gm de.
More information about this event
Information and Downloads:
Organizer:
Hochschule Geisenheim University
Sponsoren
Register here for the event