SUMMER SCHOOL
SUSTAINABILITY: Knowledge, Solutions, Wishful Thinking?
Veranstaltungsformat:

Online-Veranstaltung

Veranstaltungsort:

Online-Veranstaltung

Veranstalter:

Graduiertenschule der Hochschule Geisenheim University
Promotionsplattform Geisenheim-Gießen-Marburg

Kategorie:

Zielgruppen:

Doktorandinnen und Doktoranden
Wissenschaftlerinnen und Wissenschaftler
Masterstudierende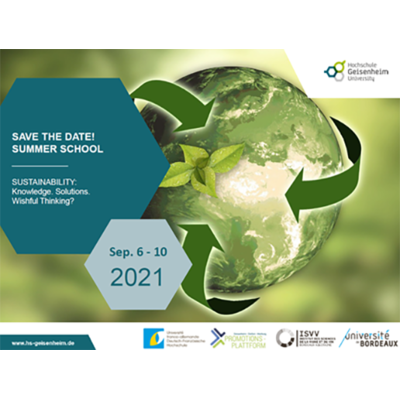 Taking on one of the most compelling current scientific and societal issues, Hochschule Geisenheim University, the Doctoral Platform Geisenheim – Giessen – Marburg and Bordeaux University will be hosting the International digital Summer School "Sustainability: Knowledge – Solutions – Wishful Thinking?"
Plan to join us virtually in September!
PhD students, Postdocs and advanced Master degree students are invited to join a cohort of scientific peers for interesting key note speeches from around the globe and delve into the complex topic of Sustainability. Encouraging an interdisciplinary exchange, the program's workshops and other digital events will enable participants to explore the challenging issues of sustainability from a socio-environmental and economical perspective.
The summer school is free of charge.
If the situation permits, some events may spontaneously take place on Hochschule Geisenheim University's campus.
Weitere Informationen zu dieser Veranstaltung
Veranstaltungsort:
Online-Veranstaltung


Informationen und Downloads:
Veranstalter:
Graduiertenschule der Hochschule Geisenheim University, Promotionsplattform Geisenheim-Gießen-Marburg
Sponsoren