Summer School "Greenhouse Hydroponics: Automation & Management"
Application deadline expired, please contact Evelyn Dimkou
Veranstaltungsformat:

Präsenzveranstaltung

Veranstaltungsort:

Hochschule Geisenheim, Campus

Veranstalter:

Geisenheimer Institut für Weiterbildung
Institut für Bodenkunde und Pflanzenernährung

Kategorie:

Zielgruppe: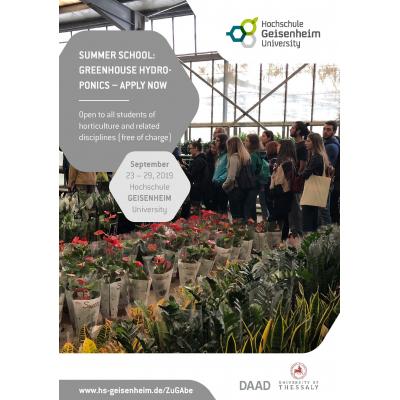 A one-week summer school on greenhouse hydroponics will take place at HGU in the last week of September 2019. Experts from Geisenheim University, University of Thessaly and other research institutions as well as people from the business will be taking a look at different aspects of the topic during the week in Geisenheim. Excursions and sightseeing tours as well as get-together evenings will round off the program.
The summer school is open to students, early-stage researchers (PhD, postdocs) or young professionals in the horticultural field, and is free. Participants will have to cover travel and accommodation costs.
Please apply below, giving your student status (BSc, MSc, PhD etc.) including the semester you are currently in, in the comments box (Kommentar).
Additionally send a CV / Resumé and a letter of motivation to Evelyn Dimkou via mail.
Application deadline is June 30, 2019. More information and Program here.
Weitere Informationen zu dieser Veranstaltung
Veranstaltungsort:
Hochschule Geisenheim, Campus
Von-Lade-Straße 1
65366 Geisenheim
Auf Karte anzeigen
Informationen und Downloads:
Veranstalter:
Geisenheimer Institut für Weiterbildung, Institut für Bodenkunde und Pflanzenernährung
Melden Sie sich Hier zur Veranstaltung an
Schnellanmeldung
nicht mehr verfügbar