WOW Conference - Sustainable Wine Tourism
02.12.2021
9:00 Uhr
-
14:30 Uhr
03.12.2021
9:00 Uhr
-
14:30 Uhr
Veranstaltungsformat:

Präsenz- und Online-Veranstaltung

Veranstaltungsorte:

Hochschule Geisenheim University, Hörsaal 32, Campus Gebäude
Online-Veranstaltung

Veranstalter:

Institut für Wein- und Getränkewirtschaft
Institut für Bodenkunde und Pflanzenernährung
Department of Wine, Vine & Beverage Sciences (University of West Attica)

Kategorie:

Zielgruppen:

Weinbau & Oenologie
Weinwirtschaft
Studierende
Doktorandinnen und Doktoranden
Wissenschaftlerinnen und Wissenschaftler
Unternehmen
Weintourismus
Weingüter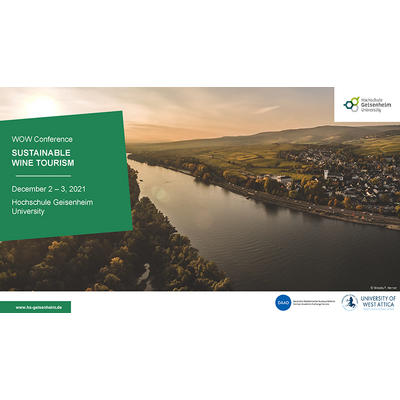 © Woody T. Herner
A hybrid conference on Sustainable Wine Tourism will take place at Hochschule Geisenheim University on December 2-3, 2021.
Experts and professionals from the field of wine tourism will analyze the current situation and future perspectives of the sector. There will be keynote talks from international boards, such as OIV and UNWTO, best practice examples from Germany, Greece and Australia, a look at the impact of Covid19 on wine tourism as well as further presentation relevant to the industry.
Students, scientists and members of the wine and/or tourism industry are welcome to participate online or join us in person in the classroom HS 32 at Hochschule Geisenheim University (max. 25 places). Participation is free of charge.
This event is organized as part of the WOW project, a cooperation between Hochschule Geisenheim University and the University of West Attica focusing on Future Challenges in Viticulture, Enology and Wine Business. The project is funded by the German Academic Exchange Service (DAAD) with funds from the German Federal Foreign Office.
REGISTRATION
If you want to participate online, please register below by November 28, 2021. You will receive a link and login password a few days ahead of the conference.
If you want to participate in person, please register here by November 23, 2021 (HGU account required).
Weitere Informationen zu dieser Veranstaltung
Veranstaltungsorte:
Hochschule Geisenheim University, Hörsaal 32, Campus Gebäude
Von-Lade-Straße 1
65366 Geisenheim
Auf Karte anzeigen
Online-Veranstaltung


Informationen und Downloads:
Veranstalter:
Institut für Wein- und Getränkewirtschaft, Institut für Bodenkunde und Pflanzenernährung, Department of Wine, Vine & Beverage Sciences (University of West Attica)
Kooperationspartner
Melden Sie sich Hier zur Veranstaltung an